Meet Quinn and her mother, Colleen.
---
Quinn had signs of NOMID from birth.
"No one at the hospital—not even the chief neonatologist—had ever seen anything like Quinn's constellation of symptoms."—Colleen, Quinn's mother
Read more about Quinn's first signs of NOMID
"Quinn was delivered immediately via emergency C-section, 6 weeks prematurely. Approximately 48 hours later, her condition stabilized in the neonatal intensive care unit, or NICU. When she was able to breathe on her own, it felt like we could finally breathe. But that's when we first noticed a peculiar rash covering our baby's face and body. Quinn was also running a fever. The neonatologist couldn't explain the cause. She said it was unusual for babies to be born with allergies, but she was treated with acetaminophen and an antihistamine anyway.
Quinn was discharged after 10 days with instructions to follow up with our pediatrician as soon as we got back to New York. But that same night, the rash came back—with a vengeance. It looked like a horrible case of hives and covered her little body from head to toe. The fever returned as well, and Quinn was so lethargic; she could hardly even cry. Her eyes were lackluster. Terrified, we rushed to the hospital and she was admitted for intensive care."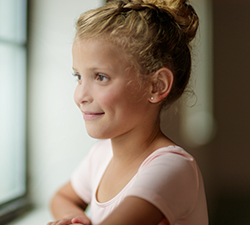 Each NOMID patient's path to diagnosis is unique—and like most, Quinn's was complex.
"During the first 6 months of Quinn's life, we were referred to specialist after specialist—12, to be exact. She underwent countless tests and tried various forms of treatment with no relief."—Colleen, Quinn's mother
Learn more about Quinn's diagnostic journey
"Quinn's health deteriorated with each passing week. The fevers and rashes came and went almost daily, appeared weak and in pain. She missed important developmental milestones and was diagnosed with failure to thrive with height/weight below the second percentile. Her liver and spleen were enlarged, and on multiple occasions, she had to be hospitalized for pneumonia. Needless to say, it was a nightmare for us all.
Finally, we ended up being referred to a doctor who spent the next 6 months methodically analyzing Quinn's clinical symptoms and searching for answers. This included admitting her to the hospital for a week-long, multispecialty work-up where they could watch her closely and run tests during her flares of fever, rash, and pain. Quietly, diligently, this doctor, a pediatric rheumatologist, put together the pieces of our complex puzzle."
When your child is seriously ill, obtaining a diagnosis can be a relief.
"At this point, however, there was nothing we wouldn't have tried if it meant there was even a possibility it would help our daughter."—Colleen, Quinn's mother
Find out how Quinn's doctor arrived at her diagnosis
"The week of Quinn's 1st birthday, she again fell terribly ill. Her cry sounded strange, and when I went to get her from the crib she was purple and swollen all over, like a balloon. Our doctor met us at the emergency room entrance and once again, Quinn was whisked out of my arms as they rushed her inside. Time was critical because her brain was swollen. Because no one knew what was causing these problems, the staff had to take every safety precaution. Everyone wore masks and protective clothing as if Quinn had a contagious disease. It was surreal. Thankfully, she wasn't contagious, but she did have a severe inflammation that threatened her life. When her condition stabilized after a few days, our doctor finally found the final clues he needed. He revealed that although Quinn's gene test results were negative, and she didn't have the telltale eye problems, other symptoms pointed to a rare autoinflammatory condition called NOMID.
It was the first we had ever heard of this diagnosis. He explained that the only available treatment at that time, anakinra—available today as KINERET—was in clinical trial through the National Institute of Health. He told us it would be a daily injection just under the skin and that there were potentially serious side effects, which include serious infections, allergic reactions, lowered ability to fight infection, and low white blood cell counts.
He didn't sugarcoat anything. The injections were painful to receive and injection site reactions and side effects could be a problem. It was a treatment that she may have to continue for the rest of Quinn's life. At this point, however, there was nothing we wouldn't have tried if it meant there was even a possibility it would help our daughter."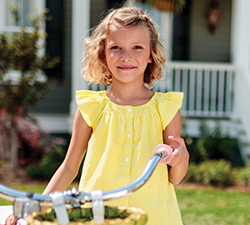 In Quinn's case, KINERET reduced the signs and symptoms of NOMID.
"It was a turning point in a year of suffering: Quinn's NOMID diagnosis had led us to the treatment that might be right for her."—Colleen, Quinn's mother
Read more about Quinn's first KINERET injection
"The following day, Quinn was given her first injection. It's important for everyone to remember that each patient is different and that what I'm sharing with you are only Quinn's experiences. Other people may have different experiences. The important thing is to talk with your healthcare team about what works best for you or your child. Quinn tolerated the first injection well and after treatment began, some of the symptoms that had plagued her entire little life began to ease. It was a turning point in a year of suffering: Quinn's NOMID diagnosis had led us to the treatment that might be right for her."
Injecting KINERET is now part of Quinn's daily routine.
"I'm not gonna lie. For a long time, she put up a fight about it almost every time, but, hey, she's a kid! That's kind of her job, right? She doesn't fight it so much anymore; she understands that she needs her injections. If for some reason our routine is off or we're running late, she's the first one to remind me: 'Mommy, you forgot my KINERET.'"—Colleen, Quinn's mother
See how Quinn and Colleen have incorporated KINERET into their daily life
"Because I want to empower Quinn when it comes to her injection, I try to give her as much control over the process as possible. It's important to rotate injection sites and I've always kept a chart on the refrigerator to keep track of that. Now, she's old enough and has been trained on how to give herself an injection on the front of her thighs. So, on the days when that site is appropriate, Quinn will self-inject. She's also keeping her own chart these days. She decorates them with drawings and stickers and little pep talks to herself, 'Good job, Quinn!'
Everyone needs to work out a daily injection routine that works for their family. Quinn decided that she wants to play for a little while before her shot and after she wakes up, so we schedule that in. I make sure to pop in and give her notice that she has X number of minutes before her injection, so she can prepare. Quinn decides which room she wants to be in for the injection and picks which of the appropriate body sites will be used after double checking the rotation chart. After the injection, Quinn likes to have some time alone, and then she gets ready for school."
INDICATIONS
KINERET® (anakinra) is a prescription medicine called an interleukin-1 receptor antagonist (IL-1Ra) used to:
Reduce the signs and symptoms and slow the damage of moderate to severe active rheumatoid arthritis (RA) in people aged 18 years and older when 1 or more other drugs for RA have not worked
Treat people with a form of Cryopyrin-Associated Periodic Syndromes (CAPS) called Neonatal-Onset Multisystem Inflammatory Disease (NOMID)
Treat people with Deficiency of Interleukin-1 Receptor Antagonist (DIRA)
KINERET is not for children with Juvenile Rheumatoid Arthritis.
IMPORTANT SAFETY INFORMATION
Who should not take KINERET?
People who are allergic to:
Proteins made from bacteria called E. coli. Ask your healthcare provider if you are not sure
Anakinra or any of the ingredients in KINERET. See the end of the patient leaflet for a complete list of ingredients in KINERET
What information should I know before starting KINERET?
Before you use KINERET, tell your healthcare provider if you:
Have an infection, a history of infections that keep coming back, or other problems that can increase your risk of infections
Are scheduled to receive any vaccines. People using KINERET should not receive live vaccines
Have kidney problems
Are pregnant or plan to become pregnant. It is not known if KINERET will harm your unborn baby
Are breastfeeding or plan to breastfeed. It is not known if KINERET passes into your breast milk. You and your healthcare provider should decide if you will use KINERET or breastfeed
Tell your healthcare provider about all the medicines you take, including prescription and over-the-counter medicines, vitamins, and herbal supplements. KINERET and other medicines may affect each other and cause serious side effects. Especially tell your healthcare provider if you take certain other medicines that affect your immune system called Tumor Necrosis Factor (TNF) blockers. Ask your healthcare provider for a list of these medicines if you are not sure. Know the medications you take. Keep a list of your medicines and show it to your healthcare provider and pharmacist when you get a new prescription.
What are the possible side effects of KINERET?
KINERET may cause serious side effects, including:
Serious infections. KINERET may lower your ability to fight infections. During treatment with KINERET, call your healthcare provider right away if you get an infection, have any sign of an infection including a fever or chills, or have any open sores on your body. You may get an infection if you receive live vaccines while you use KINERET. You should not receive live vaccines while you use KINERET
Allergic reactions. Stop using KINERET and call your healthcare provider or get emergency help right away if you have any of these symptoms of an allergic reaction: swelling of your face, lips, mouth, or tongue; trouble breathing; wheezing; severe itching; skin rash, redness, or swelling outside of the injection site area; dizziness or fainting; fast heartbeat or pounding in your chest (tachycardia); or sweating. People with DIRA may have an increased risk of allergic reactions, especially in the first several weeks
Decreased ability of your body to fight infections (immunosuppression). It is not known if treatment with medicines that cause immunosuppression, like KINERET, affect your risk of getting cancer
Low white blood cell count (neutropenia). KINERET may cause you to have a lower number of certain white cells (neutrophils). Neutrophils are important in fighting infections. You should have blood tests before starting treatment with KINERET, then monthly for 3 months. After the first 3 months you should have your blood tested every 3 months for up to 1 year
The most common side effects of KINERET include:
Injection site skin reactions, including redness, swelling, bruising, itching, and stinging. Most injection site reactions are mild, happen early during treatment, and last about 14 to 28 days. Injection site reactions have been observed less frequently in people with NOMID
RA gets worse with treatment, if you already have RA
Headache
Nausea and vomiting
Diarrhea
Joint pain
Fever
Feeling like you have the flu
Sore throat or runny nose
Sinus infection
Pain in your stomach area
Tell your healthcare provider if you have any side effect that bothers you or does not go away. These are not all of the possible side effects of KINERET. For more information ask your healthcare provider or pharmacist.
Please see full Prescribing Information, including Patient Information.
Reference: KINERET [Prescribing Information]. Stockholm, Sweden: Swedish Orphan Biovitrum AB (publ).
This information is intended for US healthcare professionals. Please confirm you are a healthcare professional to continue.