Megan was diagnosed with RA in 2011 at age 31.
"Suddenly, halfway through my PhD program, I was blindsided by a sudden and unexpected illness: fever, rashes, pain that crept up every limb from the throbbing joints in my hand and feet and prevented me from doing the most basic of tasks."—Megan, RA patient
Learn more about Megan's RA diagnosis
"I joked to my friends that it looked like someone had beaten my legs with tiny sticks until they were covered with a lattice of small, purple bruises. My feet swelled two sizes. My fingers were too clumsy to even open a bottle of water.
After several months of inconclusive tests, I was diagnosed with rheumatoid arthritis. I remember the phone call from the doctor. My relief that I finally had an answer for my unreliable body quickly turned to panic. I was afraid that the life I had known up to that point had ended."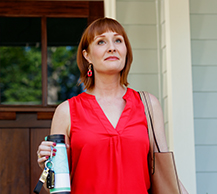 Before starting KINERET, Megan tried multiple RA treatments, all of which failed.
"I spent two years trying and failing multiple RA drugs, never knowing which drug might treat some symptoms but exacerbate others. […] I began to feel that my rheumatologist and I were firing shots into the air and hoping we hit something."—Megan, RA patient
Read more about Megan's treatment failures
"These years hold some of the darkest moments of my life. I was incapacitated: I had to put my research and teaching on hold; I gave up my yoga and dance classes. I contemplated dropping out of graduate school, moving home with my parents, and applying for disability. I 'failed' one drug after another. I started slowly losing my hair, my independence, and my optimism for a future without pain."
Based on Megan's history of IL-1–driven inflammatory RA symptoms, her rheumatologist prescribed KINERET.
"Knowing my history of RA symptoms, my rheumatologist chose to start me on KINERET, and I will be forever grateful for her insight."—Megan, RA patient
Find out how Megan's doctor prepared her for KINERET treatment
"I remember the first conversation I had with my doctor about KINERET was just after she returned from a conference. Whereas our initial conversations about medications had been focused on general topics—side effects, dosage, birth control requirements—her first mention of KINERET was related to research she had heard about at a conference, research that she felt might be particularly helpful to my RA symptoms.
Prior to beginning treatment, I was afraid I had gotten my hopes up about KINERET, and I worried they would be dashed again by failing another medication. I was also concerned about whether it would be challenging to get KINERET from my local pharmacy, whether I would have to prepare the syringes myself, and whether there might be any unpleasant side effects.
I was told it would take up to 60 to 90 days for me to start seeing the impact of KINERET on my RA symptoms, and that I could expect injection site reactions within that time period, but that they may gradually get better and become milder. I admit, the prospect of daily injections wasn't exactly appealing, but I had already tried self-administered injections, so I had conquered my fear of needles and I was prepared to try."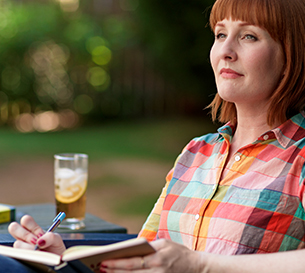 Megan responded well to KINERET and had a reduction in symptoms within the first 12 weeks.
"Compared to how I felt when I was diagnosed, and during the three years after, the change is heartening."—Megan, RA patient
Learn more about Megan's results with KINERET treatment
"Since beginning treatment with KINERET, the joints in my hands and feet became less tender and painful. It has also helped control my frequent, low-grade fevers, and my skin rashes have improved.
Unfortunately, the injections themselves have always been painful for me—the solution stings, and I do very slow injections, even after I have let the syringe warm up for 30 to 60 minutes. This is my experience, though, others may have a different experience with KINERET."
Megan has worked closely with her doctor to manage injection site reactions.
"I've found letting the solution warm up, and injecting slowly in a relaxed position (for example, sitting up in bed) is the best way for me to manage them."—Megan, RA patient
Learn more about Megan's experience with injection site reactions
"Although I had pretty classic injection site reactions starting about two weeks after I began taking KINERET, they tapered off within the first six weeks. I get mild bruising sometimes now, but none of the itching or swelling I experienced initially. I do almost all of my injections on my upper thighs, rotating sides and areas daily. I find this much less painful than other spots, but that's just my experience.
I remembered my doctor said it would take a while to potentially start working, so I was glad I continued treatment, even though I was having these issues. The fact that I was beginning to feel improvement motivated me to continue treatment."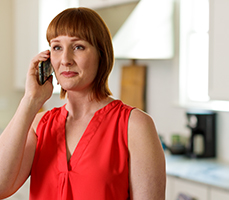 Kineret ON TRACK™ has supported Megan throughout her KINERET treatment.
"Kineret ON TRACK™ allowed me to work with a case manager and get KINERET sent right to my office."—Megan, RA patient
See how Kineret ON TRACK™ has assisted Megan
"After explaining the terms and conditions that applied, the case manager determined I was eligible to receive co-pay assistance, too. It's nice to know that I can budget for a set amount. It's also great that I can call and get my medication delivered to the address I choose, and have it there overnight if necessary."
INDICATIONS
KINERET® (anakinra) is a prescription medicine called an interleukin-1 receptor antagonist (IL-1Ra) used to:
RA: Reduce the signs and symptoms and slow the damage of moderate to severe active rheumatoid arthritis (RA) in people aged 18 years and older when 1 or more other drugs for RA have not worked
NOMID: Treat people with a form of Cryopyrin-Associated Periodic Syndromes (CAPS) called Neonatal-Onset Multisystem Inflammatory Disease (NOMID)
DIRA: Treat people with Deficiency of Interleukin-1 Receptor Antagonist (DIRA)
KINERET is not for children with Juvenile Rheumatoid Arthritis.
IMPORTANT SAFETY INFORMATION
Do not take KINERET if you are allergic to:
Proteins made from bacteria called E. coli. Ask your healthcare provider if you are not sure
Anakinra or any of the ingredients in KINERET. See the end of the patient leaflet for a complete list of ingredients in KINERET
Before starting KINERET, tell your healthcare provider if you:
Have an infection, a history of infections that keep coming back, or other problems that can increase your risk of infections
Are scheduled to receive any vaccines. People using KINERET should not receive live vaccines
Have kidney problems
Are pregnant or plan to become pregnant. It is not known if KINERET will harm your unborn baby
Are breastfeeding or plan to breastfeed. It is not known if KINERET passes into your breast milk. You and your healthcare provider should decide if you will use KINERET or breastfeed
Tell your healthcare provider about all the medicines you take, including prescription and over-the-counter medicines, vitamins, and herbal supplements.
KINERET and other medicines may affect each other and cause serious side effects. Especially, tell your healthcare provider if you take certain other medicines that affect your immune system called Tumor Necrosis Factor (TNF) blockers. Ask your healthcare provider for a list of these medicines if you are not sure. Know the medications you take. Keep a list of your medicines and show it to your healthcare provider and pharmacist when you get a new prescription.
KINERET may cause serious side effects, including:
Serious infections. KINERET may lower your ability to fight infections. During treatment with KINERET, call your healthcare provider right away if you get an infection, have any sign of an infection including a fever or chills, or have any open sores on your body. You may get an infection if you receive live vaccines while you use KINERET. You should not receive live vaccines while you use KINERET
Allergic reactions. Stop using KINERET and call your healthcare provider or get emergency help right away if you have any of these symptoms of an allergic reaction: swelling of your face, lips, mouth, or tongue; trouble breathing; wheezing; severe itching; skin rash, redness, or swelling outside of the injection site area; dizziness or fainting; fast heartbeat or pounding in your chest (tachycardia); or sweating. People with DIRA may have an increased risk of allergic reactions, especially in the first several weeks
Decreased ability of your body to fight infections (immunosuppression). It is not known if treatment with medicines that cause immunosuppression, like KINERET, affect your risk of getting cancer
Low white blood cell count (neutropenia). KINERET may cause you to have a lower number of certain white cells (neutrophils). Neutrophils are important in fighting infections. You should have blood tests before starting treatment with KINERET, then monthly for 3 months. After the first 3 months you should have your blood tested every 3 months for up to 1 year
The most common side effects of KINERET include:
Injection site skin reactions. The symptoms of injection site skin reactions may include: redness, swelling, bruising, itching, and stinging. Most injection site reactions are mild, happen early during treatment, and last about 14 to 28 days. Injection site reactions have been observed less frequently in people with NOMID
RA gets worse with treatment, if you already have RA
Headache
Nausea and vomiting
Diarrhea
Joint pain
Fever
Feeling like you have the flu
Sore throat or runny nose
Sinus infection
Pain in your stomach area
Tell your healthcare provider if you have any side effect that bothers you or does not go away.
These are not all of the possible side effects of KINERET. For more information ask your healthcare provider or pharmacist. You can also see the Full Prescribing Information for KINERET including Patient Information and Instructions for Use at https://www.kineretrx.com/pdf/Full-Prescribing-Information-English.pdf
To report suspected side effects, contact Sobi North America at 1-866-773-5274 or FDA at 1-800-FDA-1088
Click here for full Prescribing Information for KINERET, including Patient Information.
This information is intended for US healthcare professionals. Please confirm you are a healthcare professional to continue.