Peggy's symptoms began at a busy time in her life.
"I had Megan, my youngest child in 1988 and started my masters's degree in 1990. My symptoms started in 1993, the day before Megan's fifth birthday. I started to get really achy, almost flu-like. I got up in the morning with difficulty moving anything."—Peggy, RA patient
Learn more about Peggy's experience with RA
"It was the oddest thing I've ever experienced. I remember being in a mall one day with a mattress store inside. I wanted to go in and say, 'If you could just give me a corner to lay down in for a couple of hours, I'll be fine.' It's that bad.
As time went on I continued to work, I continued to be a mother, because if you're not getting better, you just have to go with it."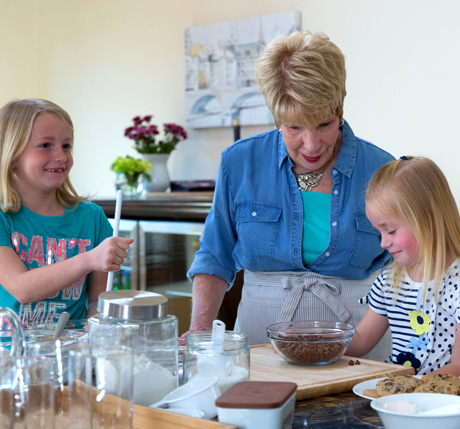 As a caretaker, it was difficult for her to be the one who needed care.
"I wasn't a complainer, but people could see that I was suffering. My mother came down a lot of the time because my kids were little. Other moms would take my sons to hockey and my daughter to dance classes. While I appreciated everyone's help, part of me was a little resentful. I wasn't able to be the mother I wanted to be and other people had to step in."—Peggy, RA patient
Learn more about the impact RA had on Peggy
"I don't think anybody wants to admit that they can't do it all. I was taking care of my children, there were deadlines to be met. I would allow myself two hours a night to sleep. Well, you can do that for a while, and then your body really comes back and says, 'If you're not going to rest I'm going to put you at rest."
For years, doctors were unable to find a treatment that worked for Peggy.
"I had gone to multiple doctors who were unable to give me a diagnosis. I tried many different treatments to get my symptoms under control, but many of them didn't work for me and I had a hard time tolerating them."—Peggy, RA patient
Read about Peggy's RA diagnosis
"I was finally given a diagnosis: rheumatoid arthritis. I thought getting this diagnosis would make it easier to find something to treat the symptoms. I was so optimistic about starting a new treatment—and then incredibly frustrated when I could not tolerate it. Again we tried more and more treatments, but still nothing seemed to work. I started to worry. What if nothing could help me?"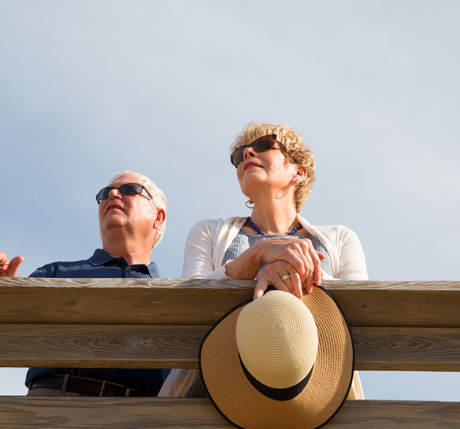 Her rheumatologist was unwilling to give up.
"With multiple therapeutic failures, my rheumatologist continued her search for a treatment. She attended a rheumatology conference and with me and my RA diagnosis in mind, she came back and said 'I have something for you.'"—Peggy, RA patient
Read about Peggy's decision to start KINERET
"I knew to save my joints I had to do something. I said, 'I'm willing to try anything.' And that's when I started KINERET."
Peggy experienced a reduction in her symptoms after starting KINERET.
"The fatigue and the aching in my joints started to improve."—Peggy, RA patient
Lean more about Peggy's results with KINERET
"My RA symptoms abated within 12 weeks, and didn't return as long as I was compliant with the dosage and the maintenance schedule."
"I did get injection site reactions from KINERET. There was usually some redness and a little bit of swelling at the injection site. I dealt with them by letting the KINERET warm a little bit rather than taking it right from the refrigerator. Or you can use some ice after the injection."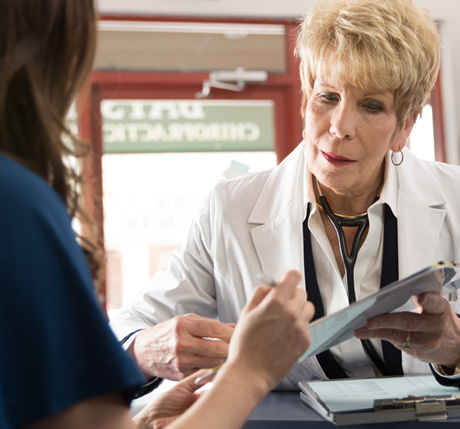 Today, Peggy continues to care for others.
But she also takes time for herself.
"I still work part time, but I try to be home by six o'clock because I know my body will require some rest."—Peggy, RA patient
Learn more about Peggy's life after finding treatment
"I take my grandchildren to soccer and horseback riding lessons. When they visit we usually ride bikes or bake something. My typical life is active. I live life to what I think is the fullest. I swim and do aerobic exercises every week. On Thursdays, I play mahjong with a group of women. They could play all day, but I limit myself until 1:30 in the afternoon.
You have to keep ahead of your body. You have to develop goals every day and try to achieve them or you'll let the diagnosis get in front of you."
INDICATIONS
KINERET® (anakinra) is a prescription medicine called an interleukin-1 receptor antagonist (IL-1Ra) used to:
Reduce the signs and symptoms and slow the damage of moderate to severe active rheumatoid arthritis (RA) in people aged 18 years and older when 1 or more other drugs for RA have not worked
Treat people with a form of Cryopyrin-Associated Periodic Syndromes (CAPS) called Neonatal-Onset Multisystem Inflammatory Disease (NOMID)
Treat people with Deficiency of Interleukin-1 Receptor Antagonist (DIRA)
KINERET is not for children with Juvenile Rheumatoid Arthritis.
IMPORTANT SAFETY INFORMATION
Who should not take KINERET?
People who are allergic to:
Proteins made from bacteria called E. coli. Ask your healthcare provider if you are not sure
Anakinra or any of the ingredients in KINERET. See the end of the patient leaflet for a complete list of ingredients in KINERET
What information should I know before starting KINERET?
Before you use KINERET, tell your healthcare provider if you:
Have an infection, a history of infections that keep coming back, or other problems that can increase your risk of infections
Are scheduled to receive any vaccines. People using KINERET should not receive live vaccines
Have kidney problems
Are pregnant or plan to become pregnant. It is not known if KINERET will harm your unborn baby
Are breastfeeding or plan to breastfeed. It is not known if KINERET passes into your breast milk. You and your healthcare provider should decide if you will use KINERET or breastfeed
Tell your healthcare provider about all the medicines you take, including prescription and over-the-counter medicines, vitamins, and herbal supplements. KINERET and other medicines may affect each other and cause serious side effects. Especially tell your healthcare provider if you take certain other medicines that affect your immune system called Tumor Necrosis Factor (TNF) blockers. Ask your healthcare provider for a list of these medicines if you are not sure. Know the medications you take. Keep a list of your medicines and show it to your healthcare provider and pharmacist when you get a new prescription.
What are the possible side effects of KINERET?
KINERET may cause serious side effects, including:
Serious infections. KINERET may lower your ability to fight infections. During treatment with KINERET, call your healthcare provider right away if you get an infection, have any sign of an infection including a fever or chills, or have any open sores on your body. You may get an infection if you receive live vaccines while you use KINERET. You should not receive live vaccines while you use KINERET
Allergic reactions. Stop using KINERET and call your healthcare provider or get emergency help right away if you have any of these symptoms of an allergic reaction: swelling of your face, lips, mouth, or tongue; trouble breathing; wheezing; severe itching; skin rash, redness, or swelling outside of the injection site area; dizziness or fainting; fast heartbeat or pounding in your chest (tachycardia); or sweating. People with DIRA may have an increased risk of allergic reactions, especially in the first several weeks
Decreased ability of your body to fight infections (immunosuppression). It is not known if treatment with medicines that cause immunosuppression, like KINERET, affect your risk of getting cancer
Low white blood cell count (neutropenia). KINERET may cause you to have a lower number of certain white cells (neutrophils). Neutrophils are important in fighting infections. You should have blood tests before starting treatment with KINERET, then monthly for 3 months. After the first 3 months you should have your blood tested every 3 months for up to 1 year
The most common side effects of KINERET include:
Injection site skin reactions, including redness, swelling, bruising, itching, and stinging. Most injection site reactions are mild, happen early during treatment, and last about 14 to 28 days. Injection site reactions have been observed less frequently in people with NOMID
RA gets worse with treatment, if you already have RA
Headache
Nausea and vomiting
Diarrhea
Joint pain
Fever
Feeling like you have the flu
Sore throat or runny nose
Sinus infection
Pain in your stomach area
Tell your healthcare provider if you have any side effect that bothers you or does not go away. These are not all of the possible side effects of KINERET. For more information ask your healthcare provider or pharmacist.
Please see full Prescribing Information, including Patient Information.
Reference: KINERET [Prescribing Information]. Stockholm, Sweden: Swedish Orphan Biovitrum AB (publ).
This information is intended for US healthcare professionals. Please confirm you are a healthcare professional to continue.