How should I inject KINERET?
Learn from your healthcare team and develop a routine.
Whether this is your first time injecting or you have used different injection therapies, every treatment is different and we recommend you take advantage of KINERET injection training resources.
The nurses at your doctor's office may train you to inject or you can receive injection training at any time from the trained nurses at KINERET® On TRACK™.
STEP
Get ready
Set up a clean and flat work space such as a table
Take the KINERET prefilled syringe labeled with the correct day of the week out of the refrigerator

Check the expiration date
Wait for 30 minutes to let the solution come to room temperature
Ensure that the liquid in the syringe is clear and colorless (a few small bubbles are not a problem)


Gather your supplies

Alcohol swabs or wipes
Dry gauze, tissue, and/or cotton ball
Needle clipper or puncture-resistant sharps container

Wash your hands with soap and warm water
STEP
Select your injection site
Choose an injection site
Be sure to choose a new site each time you inject KINERET

Do not inject into an area that is tender, red, bruised, or hard
Avoid areas with scars or stretch marks
Do not inject close to a vein that you can see under the surface of the skin

Clean your injection site with an alcohol swab and let the area dry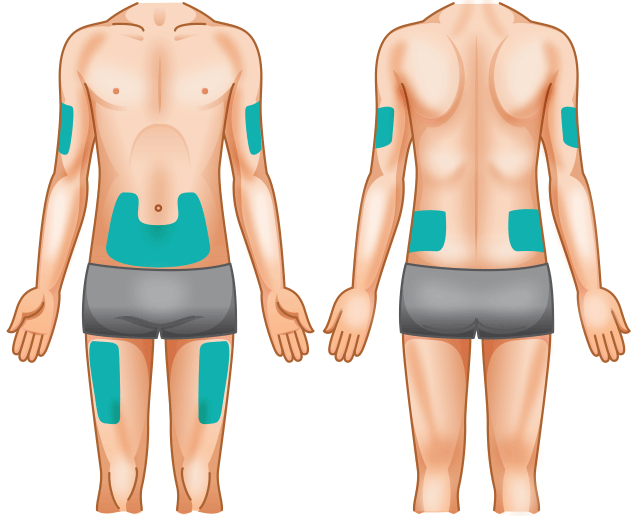 STEP
Give the injection
1. Hold the syringe barrel and pull the cover straight off the needle
2. Gently pinch a fold of skin at the cleaned injection site
3. Hold the syringe like a pencil at a 45- to 90-degree angle to the skin
4. Insert the needle into the skin with a quick, dart-like motion
5. Slowly push the plunger all the way down to inject KINERET
6. When the syringe is empty, pull the needle out of the skin while keeping the needle at the same angle
STEP
After the injection
Place a cotton ball or gauze over the injection site and press for several seconds

Don't use an alcohol wipe—it may sting!

Clip your needle and throw the syringe in the trash or put the used syringe in a sharps disposal container right away
Track your injection site in a diary or on the KINERET Injection Tracker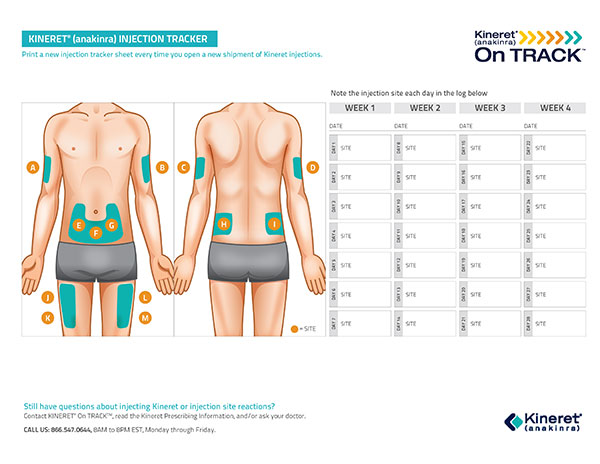 What happens if I have an injection site reaction?
Most injection site reactions are temporary, and there are tips to help address them.
Skin reactions are the most common side effect with KINERET and may appear as redness, swelling, bruising, itching, or stinging of the skin at the injection site
Injection site skin reactions are most common during the first month of treatment and usually last about 14 to 28 days
To help address injection site reactions:
Cool the site with a cold compress or ice pack for a few minutes, both before and after the injection

Don't skip the warm-up step of bringing KINERET to room temperature

Apply hydrocortisone or an antihistamine cream to your injection site

Rotate sites to avoid soreness. A diary or the KINERET Injection Tracker can help keep track of sites

Don't inject into skin that is red, bruised, tender, or hard
How do I get KINERET?
KINERET On TRACK will arrange for KINERET to be shipped directly to your home.
KINERET is supplied in single-use, prefilled, graduated glass syringes containing 100 mg of KINERET solution. KINERET is dispensed in a 7-day pack and most people receive their KINERET in a shipment of 4 packs (containing a total of 28 injections).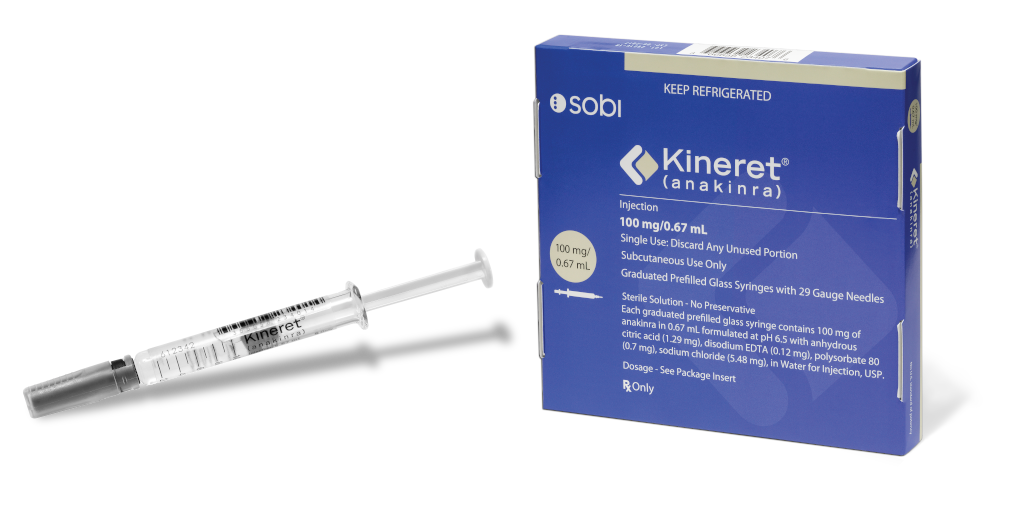 How should I store KINERET?
KINERET should be stored in a refrigerator.
KINERET should be refrigerated at between 36°F to 46°F (2°C to 8°C).
Store KINERET in its original carton and away from light.
Discard any syringe that has been left out of the refrigerator for more than 12 hours.*
Do not freeze or shake KINERET.
*We recommend you take your KINERET syringe out of the refrigerator to allow it to warm to room temperature before injection.