A team of experts supporting you at every step of your Kineret® (anakinra) journey.
KINERET On TRACK case managers, nurses, and pharmacy specialists are here to help you with prescription, insurance, and reimbursement details; deliver Kineret right to your door; and answer some of your Kineret-related questions.
For questions about your treatment, read the Kineret Prescribing Information, and/or ask your doctor.
Contact us directly or call your Clinical Account Manager to learn more.
Call us: 866.547.0644
8AM to 8PM EST, Monday through Friday
KINERET On TRACK Guidance
You can sign up for KINERET On TRACK Guidance to receive extra support and receive a complimentary travel bag.
Educational materials that help you know what to expect
Online resources packed with useful information to help you stay committed to treatment over time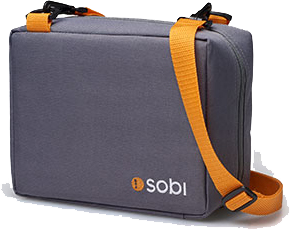 FAQs about KINERET On TRACK Guidance
What is the difference between KINERET On TRACK and KINERET On TRACK Guidance?
When you place your Kineret order, you are eligible for all the KINERET On TRACK services. KINERET On TRACK Guidance is part of those services, enabling you to receive ongoing support materials and education throughout your treatment when you agree to receive product and marketing information from Sobi.
Will my information be used for anything other than prescription fulfillment?
We take the confidentiality of your information very seriously. Your information will be stored in the KINERET On TRACK database, and will only be used for KINERET On TRACK and KINERET On TRACK Guidance communications. You may unsubscribe at any time.
If I unsubscribe from KINERET On TRACK Guidance, will I stop getting my medication?
You will still be able to get your medication if you unsubscribe from KINERET On TRACK Guidance.
Kineret Case Managers
Case Managers may be able to guide you through the insurance approval process and help find access solutions.
Help understanding your insurance coverage for Kineret
Financial assistance programs

Co-Pay Program can reduce out-of-pocket costs to as little as $25 per shipment for eligible commercially insured patients*
Patient Assistance Program can help eligible uninsured and underinsured patients access Kineret free of charge*
Download the KINERET Patient Assistance
Program application form
*Patients must be US citizens or legal residents under the care of a licensed practicing healthcare provider and prescribed Kineret. Other terms and conditions apply.
FAQs about Kineret financial assistance
How do I find out if my insurance covers Kineret?
Your Kineret Case Manager will be able to help you find out if your insurance covers Kineret and better understand your bills and co-pays.
Will I be eligible for the Co-Pay Program?
The KINERET On TRACK Co-Pay Program offers up to $10,000 a year with a $25 monthly co-pay requirement. You may be eligible if you are a U.S. citizen or resident and have commercial insurance. You are not eligible if you have federal or state government insurance, such as Medicare, Medicaid, or TRICARE.
Will I be eligible for the Patient Assistance Program?
You may be eligible if you are a U.S. citizen or resident and are uninsured or if you are underinsured. A Kineret Case Manager will help you find out if you are eligible.
Kineret Trained Nurses
Our Kineret Trained Nurses are available, as needed, to help you with injection training.
One-on-one injection training and in-home visits
Tips and advice to help address common injection site reactions
Guidance on injection site rotation and injection tracking
---
Kineret Pharmacy Specialists
Pharmacy Specialists ensure you have access to a continuous supply of Kineret.
Prescription delivery directly to your home
Free sharps containers and needle clippers
Refill reminders, emergency shipments, and more
RxCrossroads is a pharmacy that fills and ships your Kineret prescription.
FAQs about your Kineret supply
What happens if I am not at home to receive my Kineret shipment?
You can choose to be at home to sign for your shipment of Kineret, or you can opt to waive the signature requirement. Every month you will receive a refill call, and at this time you can change the address where your shipment is to be delivered.
What happens if I need an emergency supply of Kineret?
If you need an emergency supply of Kineret, call KINERET On TRACK and speak with a Kineret Pharmacy Specialist.